Moto Tassinari V4R85A VForce4R reed valve fits KTM 105SX & 105XC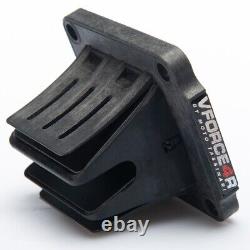 Moto Tassinari V4R85A VForce4R Reed Valve for 2003-21 KTM SX 85 & Husqvarna TC 85. The all-new VForce4R for the KTM 85cc & 105cc and Husqvarna 85cc models offers enhanced reed petal life thanks to the rubber overmolded reed cage tips and extended reed stops, as well as all the added benefits of the unique VForce reed valve design. The unique design of the VForce reed valve system features double the reed tip surface over a conventional reed valve design.
This has two major benefits: 1 The reed petals only travel half the distance as a conventional reed valve design to get the same airflow. 2 Because the reed petals only need to travel half the distance of that on a conventional reed valve design, there is a greater chance of them being fully opened as well as a better chance of sealing when they are "closed".
A reed petal never truly "closes" in a classic sense, as it is always in movement. Consider this, an engine operating at 8,000 RPM results in a reed petal opening and closing 133 times in one second. This fact, sheds light on another VForce advantage. Since the petals are only traveling half the distance, they generally last longer as they receive less wear than the reed petals on a conventional reed valve design. Moto Tassinari and VForce4R decals, detailed installation instructions, complete VForce4R reed valve system (including reed petals) and gaskets.
Our motto is, "In Dirt we Trust". We've been racing in the dirt since 1973! We know what dirt tastes like, and now enjoy Street and UTVs also. Our company has been around since 2003. Since then we have expanded our selection of new and overstock items requested by our customers.
This year we are rolling out a huge amount of unique kits including brake pad kits / suspension kits, chain & sprocket kits / graphics & seatcover kits / engine kits / body kits in response to customers having difficulties finding the correct items on all of our websites.