Moto Tassinari V4144-2 V-Force 4 Reed replacement valve System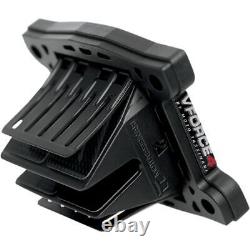 Has all-new reed petal system, carbon fiber and lay-up. Pre-curved reed petal ensures better seal at the tip.
Wider reed cage for maximum airflow. Combined reed tip area is increased by 10 1/2% for better airflow.
Airfoil shape added to cage tip to increase velocity from the outer ports. Long reed stops added to progressively slow reed petal tip velocity for increased petal durability.
Reduced frontal area of the central wing combined with a more aerodynamic shape. On the continent of North America. Photos are for reference only.
Actual product may differ from the item shown in photograph.