Moto Tassinari V-Force 3 Reed Valve V303-FM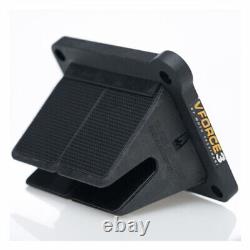 Moto Tassinari V-Force 3 Reed Valve V303-FM. Snap-together cage uses symmetrical reed petals, eliminating the need for different inner and outer replacement petalsReed tip shape accelerates air mixture, ensuring increased airflow for increased horsepowerInnovative design completely eliminates need for screwsV-Force 3i reed valve system with integrated intake boot available for noted 85cc models; 3i delivers a straight shot directly into engine cases for more balanced fuel/air distribution, newly designed reed stops for increased reed petal stability and a shorter reed cage for a noticeable performance increase due to lighter reed petalsWhen ordering replacement reeds, order one set per reed cage. Sorry, our items are NOT available for pick-up. No additional information at this time. Caliber Low-Pro Glides - Single Unit - 5.875 CR0121.
Bridgestone Tires - Battlax Adventure Cross 150/70B17M/C-(69Q) Tire 11460. 100% 100% SVS Strat Lens Bump Smoke 51021-007-02.
100% Accuri 2 Goggles Yellow with Clear Lens 50221-101-04.