Honda CR80 CR85 Derbi EBE EBS Membrane Moto Tassinari VFORCE4 Reed Valve V4R81A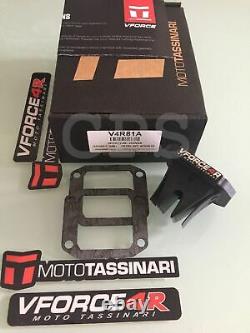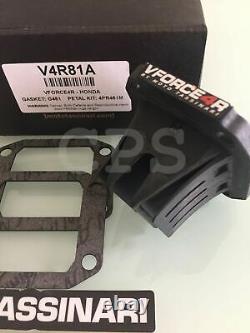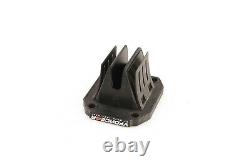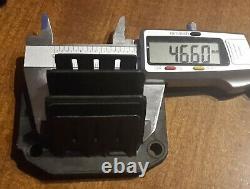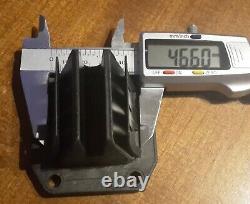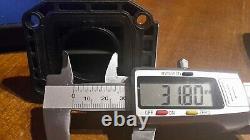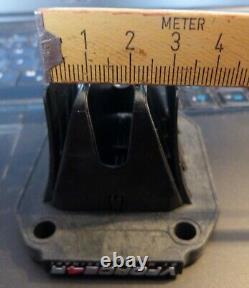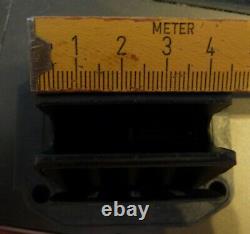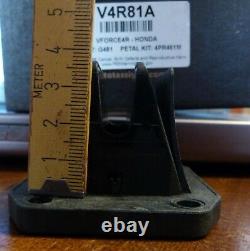 Angeboten werden komplette Membrane Kits. ORIGINAL MATERIAL AUS USA - keine Imitate! Jeweils bestehend aus 1 Membranblock, 2 Dichtungen, Sticker und Informationsmaterial. Dear customers from outside of Germany. IMPORTANT : in case you are purchasing as a company outside of Germany - please send us your VAT-number and your business registry information.
Die VForce4 Membran ist die vierte Generation von Moto Tassinari und kommt nun im völlig überarbeiteten Design. Im Gegensatz zur VForce3 ist die neue Version wieder mit Anschlägen für die äußeren Membranzungen ausgestattet. Der Membranblock wurde in dieser Version noch widerstandsfähiger gestaltet. Selbstverständlich wurde auch an der Strömung noch mal gearbeitet, um eine bestmögliche Performance zu gewährleisten. Vorgebogene Membranzungen für bessere Dichtheit an der Spitze.
Größerer Membrankäfig für maximalen Durchfluss. 10,5% mehr Fläche im Frontbereich der Membran.
Tragflächenprofil im Bereich des Dividers. Lange Anschlagflächen um die Membranzungen progressiv zu verzögern für eine verbesserte Haltbarkeit der Membranplättchen. Typ: Honda CR80 / CR85 Passend für: Honda CR80 / CR85. Der Membranblock wird ursprünglich als Membranblock für Honda CR 80 & CR 85 Modelle geliefert. Es ist jedoch mit ein paar Anpassungsarbeiten möglich, ihn auf Derbi Motoren. Derbi EBE / EBS / D50B0. Lochstich: 61 x 40 mm. The all-new VForce4R for the Honda CR80 and CR85 models offers enhanced reed petal life thanks to the rubber overmolded reed cage tips and extended reed stops, as well as all the added benefits of the unique VForce reed valve design.
The unique design of the VForce reed valve system features double the reed tip surface over a conventional reed valve design. This has two major benefits: 1 The reed petals only travel half the distance as a conventional reed valve design to get the same airflow. 2 Because the reed petals only need to travel half the distance of that on a conventional reed valve design, there is a greater chance of them being fully opened as well as a better chance of sealing when they are "closed". A reed petal never truly "closes" in a classic sense, as it is always in movement. Consider this, an engine operating at 8,000 RPM results in a reed petal opening and closing 133 times in one second.
This fact, sheds light on another VForce advantage. Since the petals are only traveling half the distance, they generally last longer as they receive less wear than the reed petals on a conventional reed valve design. STANDARD VFORCE REED VALVE FEATURES. Double the reed tip surface over a conventional reed valve design. Increased bottom end, stronger mid-range and longer top-end. Greater efficiency due to reduced reed petal travel. More airflow means more horsepower. Screw free design eliminates risk of screws going through motor.
Screw free design enables rapid reed petal changes. All-new reed petal resin system, carbon fiber and lay-up. Pre-curved reed petal ensures better seal at tip.
Wider reed cage for maximum airflow. Combined reed tip area increased by 10.5% resulting in increased total air flow. Airfoil shape added to cage tip to increase air velocity from outer ports. Long reed stops added to progressively slow petal tip velocity, for increased petal durability. Reduced frontal area of central wing by 15.6% combined with a more aerodynamic shape.
Rubber overmodling on reed tip surface of cage to further enhance petal life. Moto Tassinari and VForce4R decals, detailed installation instructions, complete VForce4R reed valve system (including reed petals) and gasket. The item "Honda CR80 CR85 Derbi EBE EBS Membrane Moto Tassinari VFORCE4 Reed Valve V4R81A" is in sale since Monday, February 15, 2021. This item is in the category "Auto & Motorrad\ Teile\Motorrad-Motorsport\Rennsport-Teile".
The seller is "cps-2019" and is located in Leinfelden-Echterdingen. This item can be shipped worldwide.
Herstellernummer: V4R81A
Baugruppe: Motor & Antrieb
Hersteller: Moto Tassinari
Teilebereich Bremsanlage & -teile: Einlassmembrane
Weitere Artikelnummer: VForce4